This post is also available in: Français (French)
Do you dream of a beautiful home of your own in Africa?
Our Vision, Mission and Values
Vision
High quality, affordable housing in all of sub-Saharan Africa
Mission
We strive to make the home building process easier and more accessible in sub-Saharan Africa by opposing long-standing systematic global inequalities that have restricted access to training, materials, and sustainable financing terms on the continent.
Values
Our calling is homebuilding in West Africa. It is, in the words of Frederick Buechner, "the place where our deep gladness and the world's deep hunger meet." Centuries of oppression, exploitation and inequality have restricted access (availability?) to the training, materials, and sustainable financing terms that could expand access to housing in sub-Saharan Africa.
🇬🇳  We believe in the dignity of every person and their right to be treated equally in all places and situations.
🇸🇳 We believe quality, affordable housing is a right for all in West Africa, and around the world.
🇸🇱 We believe that every individual has the capacity to learn, master a skill, commit to a higher purpose, and build connection with those around them.
🇱🇷 We believe that by building teams of diverse backgrounds that we can most effectively meet the challenges of the market.
🇬🇭 We believe that the people of West Africa have the capacity to address the region's challenges, and that by harnessing the human resources available and catalyzing financing solutions, we can build a sustainable business that delivers extraordinary value to our customers.
🇲🇱 We believe that we can only be successful by nurturing and sustaining the environment, respecting the law and community rights, and supporting democratic governments.
❖
Through our commitment to justice for our clients, staff and partners, our belief in the value of the many perspectives that a diverse group can bring to the housing problem, and our dedication to counteracting the tired narrative of "Africa risk", we stand against oppression, exploitation, and inequality and those who would perpetuate it.
Our Team
Wherever you are – Africa, United States, Europe, or anywhere in the world – our team is ready to help.
.
We Build Inspiring Spaces
I don't think that architecture is only about shelter, is only about a very simple enclosure. It should be able to excite you, to calm you, to make you think.
-Zaha Hadid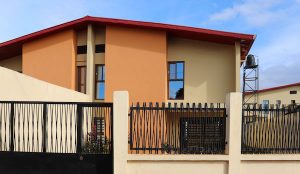 Explore our Recent Work
We have already made several clients happy with beautiful new homes. You could be next! Take a look at some recent projects.
Client Testimonials
"I recommend – strictly, truly – with no hesitation or exaggeration, I recommend American Homebuilders because of the experience I've had with them … It's a great thing for us in the diaspora, because we can do our work over in Europe or America without concern, knowing that our investment in our home country is well-managed."
"I spent three separate vacations in Guinea fighting to get land. Each time, the whole trip was consumed with difficulties and disputes related to securing clean title. Now, I can wake up every day, open my computer and look at photos of my house built by American Homebuilders. This makes me really happy. They are always available, respectful, and concerned about giving me peace of mind. They are there for their clients, which really means a lot."
"They want their clients to be satisfied … they give you all that you need … you can follow the progress from afar with videos, photos, emails, phone calls – they stay in touch with you at every step up to the completion of construction … you don't need your own land, your own construction project manager, nothing – they do it all, and give you the key."
Our Partners
We are able to achieve our mission not only thanks to the hard work of our staff, but also due to the contributions from a network of partners who share our core values of commitment to quality and customer service.